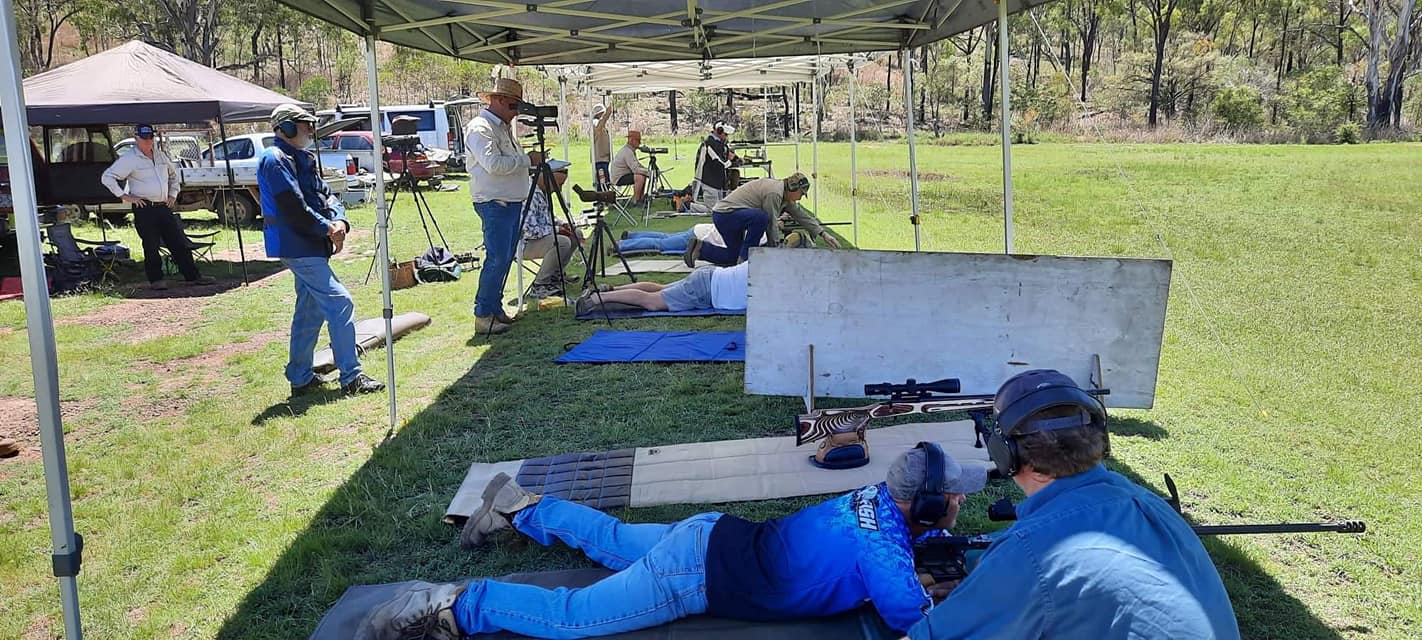 CENTRAL QLD C'SHIPS (8-9 April)
8-9 April 2023
TR/A, TR/B, TR/C, FO, FSA, FSB, FTR, S/HUNTER
All matches will be fired under the Standard Shooting Rules (as amended)
CENTRAL QUEENSLAND CHAMPIONSHIP ENTRY $90
SATURDAY 8th APRIL– 8 a.m. start electronic targets 500/600/800/800 metres
SUNDAY 9th APRIL –8 a.m. start electronic targets 600/700/900/900 metres
Targets will be a combination of Hexta and Shot Marker to be determined on entry numbers
Badges: TRA 3, TRB 2, TRC 1, F Open 3, FSA 3, FSB 3, FTR 1 & SH 3 (Plus Medallions will be awarded to winners of all individual ranges – all grades)
An excellent range of Trophies for Daily & Grand Agg Winners- all Grades
N.B. Range Medallions: When there is fewer than five shooters in a grade or Category, a gold medal only will be awarded, with extra medals determined by entries.
Gordon Smith Memorial Encouragement Award
Other information
Camping on Range – 10 Powered Caravan Sites and Rooms on first in basis
Powered Caravan Sites @ $10 per night – Camping $2 per person per night
A/C Single Rooms with facilities $40 per night (Linen supplied)
A/C twin rooms without facilities @ $30 per room per night (Linen Required) book early.
Please register your intention to attend by Sunday 30th March 2023 for catering and target purposes.
Please RSVP by email to: raglantargetsports@gmail.com
Enquiries: Ross Atherton Mob: 0407037003 Mob: Carl Lohne (Vice President) 0448101966.
Catering commences Friday evening. All meals at reasonable prices. Hot showers available
PLEASE NOTE: THIS IS A QUALIFYING SHOOT FOR THE CLIVE THIEDEKE TROPHY
The Committees of the C.Q.D.R.A. & R.T.S.A. reserve the right to amend or alter this program as required
NB : Re: Sporting Hunter (SH) Class: All Sporting Hunter Class competition will be conducted on a nominated target or targets on the far right hand side of the range – muzzle Brakes will be allowed with blast shields in place to control noise.
More information: :

2 Day Shoot – 8th & 9th APRIL 2023