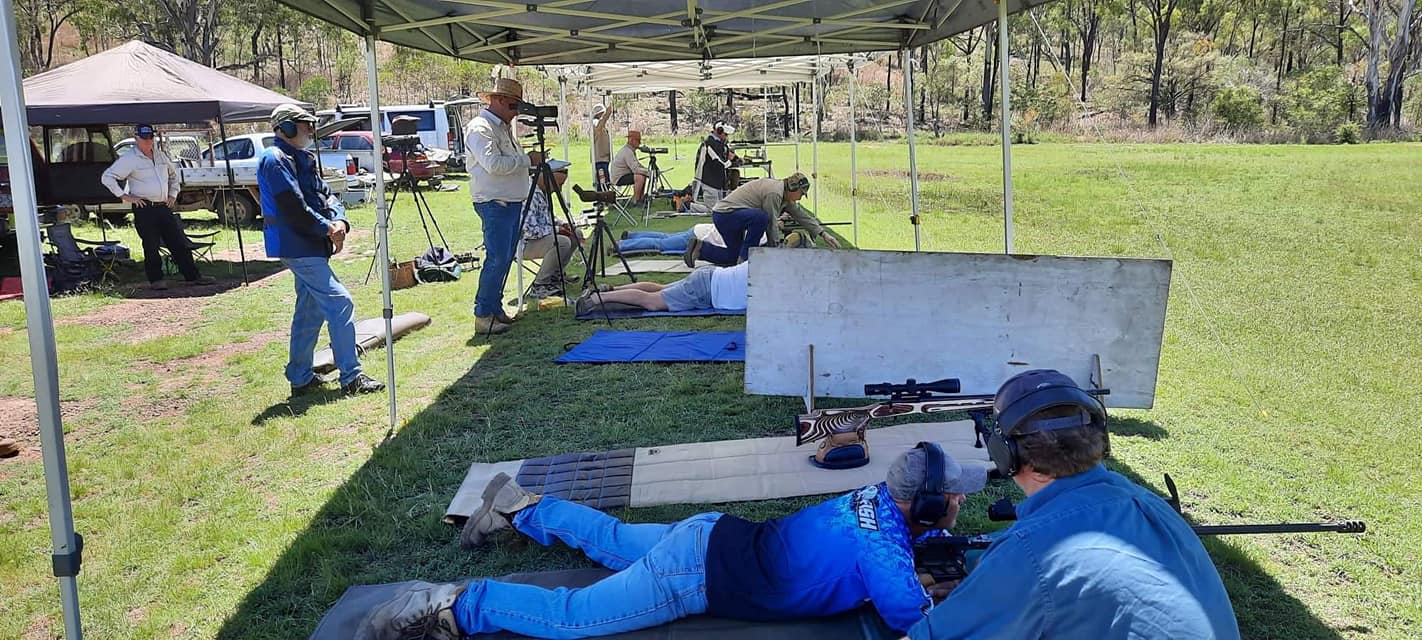 CQ Target Sports Raglan Christmas Shoot
CENTRAL QUEENSLAND TARGET SPORTS CLUB
INVITES YOU TO OUR SWEEPSTAKE
2022 CHRISTMAS SHOOT – AT RAGLAN RIFLE RANGE
SATURDAY 10TH & SUNDAY 11TH DECEMBER 2022
Saturday 10th December
8.30am 300 metres- Tactical Service rifle- 10 shots (Open – No Grades – two sighters)
10.00am 500 metres – Service rifle (303) – 10 shots (Open – No Grades – two sighters)
1.30 p.m. 500 meters 10 + 11 shots 105 or 126 possible (A,B,C, F Std A & B, Open, F/TR & S/Hunter-Muzzle brake permitted)
6.45 p.m. B.B.Q. dinner
Sunday 11th December
8.00 a.m. 500 meters 10 + 11 shots 105 or 126 possible (A.B.C, F Std A & B, Open, F/TR & S/Hunter-Muzzle brake permitted)
500 metres – Fly Shoot – 5 shots (Open – No Grades – one sighter)
(All shooting will be competitor marking on manual targets)
Grand Aggregate Prizes: Sweepstakes winnings based upon entrant numbers in each category and grade for 1st, 2nd and 3rd place winners in the following categories;
NRAA -Target rifle grades A.B.C, F Std A & B, Open, F/TR & S/Hunter Class
Fly Shoot -Direct or nearest hit to center of Fly will be judged winner (1st place only)- Open to all – irrespective to grade or rifle caliber or sight.
Tactical service rifles-Magazine fed rifles in a military caliber only.
Service Rifle 303 shoot – 303 rifles or other types of military style rifles e.g. Swedish Mauser etc with ONLY open or aperture sights being allowed – no grades
Lucky Door Prizes: Tickets drawn from nominations for a Ham, Christmas cake and puddings.
MEMBERS OF QMRC, SSAA, CAPRICORN SHOOTERS, BLACK POWDER AND FIELD & GAME ORGANISATIONS MOST WELCOME TO JOIN IN OUR XMAS FESTIVITIES
All shooting will be under shade. Range camping facilities and clubhouse showers etc. are available for the weekend for $5.00pn. 10 powered Caravan sites (10) @ $10-00 pn. Single Rooms with facilities (Linen Supplied) $40-00 per night (Booked out) – Also limited Twin/room accommodation (Linen Required) available on Range @ $30-00 per room – so book early. Sandwiches and drinks etc are available at reasonable prices from the Clubhouse.
Range Fees:
Saturday$20-00 500 metres – (Full Time -Student competitors $10-00 each day)
Sunday$20-00 500metres –
$5-00 Fly Shoot – (5 Shots continuous – one sighter)
$5.00Tactical service rifle
$10-00 303 Shoot – (2 sighters – 10 to count)
Saturday Night $15.00 B.B.Q. Smorgasbord includes sweets
RSVP is appreciated by Sunday the 4th December 2022 to ensure numbers for catering purposes.
Please RSVP are by email to;
raglantargetsports@gmail.com
Enquiries: Ross on Ph: 0407037003 or Carl Lohne 0448101966