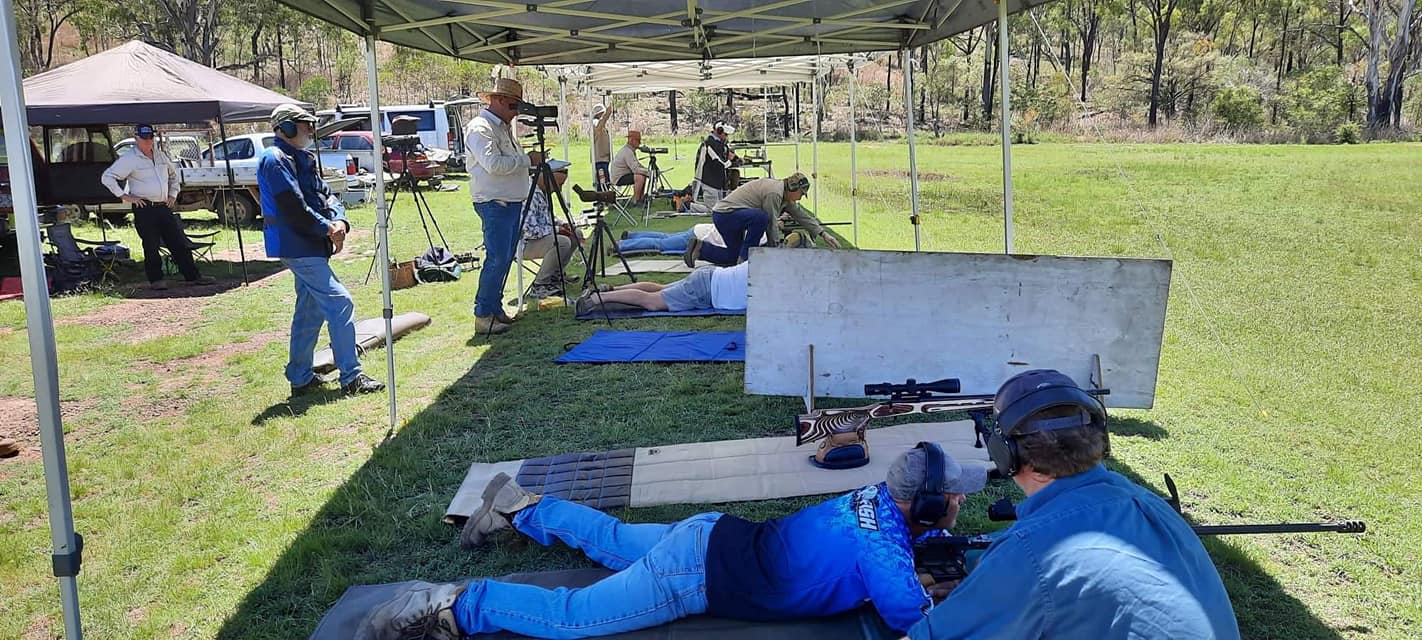 CENTRAL QUEENSLAND CHAMPIONSHIPS
TR/A, TR/B, TR/C, FO, FSA, FSB, FTR, S/HUNTER
THURSDAY 14 April 2022 – 1 p.m.
PRACTICE 600/800 metres
Entry $8-00

FRIDAY 15 APRIL – 9.30 a.m. start
RAGLAN TARGET SPORTS ASSOC. BENEFIT DAY
Entry $25 (10 Shot Matches)
Badges all Grades 800/900/1000 metres
A, B, C, FO, FS"A" FS "B" FTR& SH
CENTRAL QUEENSLAND CHAMPIONSHIP ENTRY – SAT/SUN
Entry $90
SATURDAY 16 APRIL– 8 a.m. start (paid markers?) 500/600/800/800 metres
SUNDAY 17 APRIL – 8 a.m. start (paid markers?) 600/700/900/900 metres
Competitor Marking may also apply to this event – the local Air Force Cadets have supplied markers for this event for many years and due to Covid 19 restrictions they are unable to confirm their attendance until two week prior to this event)
Grades: A, B, C, FO & FS"A", FS"B", FTR & S/HUNTER -All matches will be fired under the Standard Shooting Rules (as amended)
Badges: A Grade 3, B Grade 2, C Grade 1, F Open 3, F Std "A" 3, F Std "B" 3, FTR 1 & SH 2
Plus Medallions will be awarded to winners of all individual ranges – all grades
and excellent range of Trophies for Daily & Grand Agg. Winners- all Grades including a $$$ Encouragement Award for the Best Tyro at the Championships
N.B. Range Medallions: When there is fewer than five shooters in a grade or Category, a gold medal only will be awarded, with extra medals determined by entries.
MONDAY 18 APRIL – 8 a.m. start
PALMA MATCH (15 SHOT matches)
800/900 metres
Palma Targets
ENTRY $20
Badges 3 Palma Badges plus 2 F Class Open, 2 F Class Standard, 1 FTR & 1 SH
(Competitor marking will apply to the above event)
Camping on Range – 10 Powered Caravan Sites and Rooms on first in basis
(Powered Caravan Sites @ $10 per night – Camping $2 per person per night – Single Rooms with facilities $40 per night (Linen supplied) (No Vacancy) – twin rooms without facilities @ $30 per room per night (Linen Required) book early.
RSVP is mandatory by Sunday 10th April 2022 for COVID 19 compliance, and catering purposes.
Please RSVP by email to: raglantargetsports@gmail.com
Enquiries: Ross Atherton Mob: 0407037003; Carl Lohne (President) 0448101966.
Catering commences Thursday evening. All meals at reasonable prices. Hot showers available
PLEASE NOTE: THIS IS A QUALIFYING SHOOT FOR 2022/2023 CLIVE THIEDEKE TROPHY
The Committees of the C.Q.D.R.A. & R.T.S.A. reserve the right to amend or alter this program as required
NB : Re: Sporting Hunter (SH) Class: All Sporting Hunter Class competition will be conducted on a nominated target or targets on the far right hand side of the range – muzzle Brakes will be allowed with blast shields in place to control noise.
More information: :

Thurs $8, Fri $25, Sat/Sun $90, Mon $20